Old Metal Crafts in Borujerd
Iranian inhabitants of the western mountainous parts of Iran namely Zagros region have been known for their proficiency in metallurgy and making metallic tools. Most prehistoric and historic metal objects found in Iran belong to Zagros Mountains. Lorestan Bronze art works are the most famous historic objects from the Ancient Iran (Persia). While most of the archaeological excavations have been done in the central and western parts of Lorestan, many ancient objects also have been found from Silakhor and Borujerd region that show the same specifics of Kassids' art.

Lorestan Bronze, a masterpiece from 1000 B.C.
Borujerd is known as a centre of traditional crafts. While in the recent decades new technologies and tools have been introduced in different aspects of urban and rural life, Borujerd has kept its traditional small industries. The old Bazaar of Borujerd is not only a great business centre in the west of Iran but also it is the traditional market of hundreds of thousands of tribal and rural people who come from Lorestan, Markazi, Hamedan, Kermanshah, Esfehan and Khuzestan provinces. They have a strong relation with old crafts and professions, therefore traditional jobs and crafts have a chance to be continued more and less.
Current traditional professions and crafts indicate skills and art of the old and ancient Iranians. Among the different traditional professions in Borujerd, making different metal tools and dishes are of importance. I will write more about different traditional jobs in Bazaar of Borujerd later. Here I mention some metal-based professions:
varshou sAzi

(making tools and dishes using German silver)

gahlamzani-ye varshou

(art engraving on German silver)

ghalamzani-ye berenj

(art engravin on brass)

chelengari

(traditional blacksmithing)

halavi sAzi

(tinman craft)

samAvar sAzi

( making samovars)

ghofl sAzi (traditional locksmithing)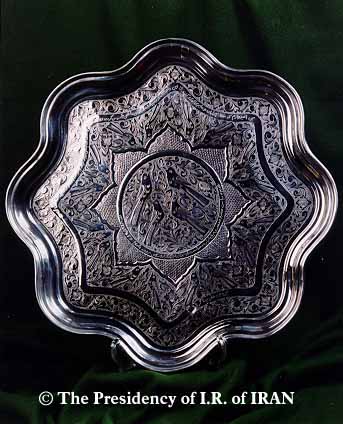 Borujerd Artistic German Silver Engraved Tray